Jan. 21, 2008
Arizona State tops NCBWA preseason poll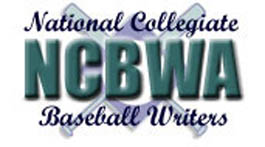 The Arizona State Sun Devils earn the top spot in the preseason poll of the National Collegiate Baseball Writers Association, as released by the NCBWA.
ASU, which posted a 49-15 mark in 2007, is one of three Pac-10 schools in the Top 11. Arizona (42-17) sits at No. 5 and two-time defending national champion Oregon State (49-18) checks in at No. 11.
North Carolina (57-16), the national runner-up each of the past two seasons, holds down the second spot, followed by Rice (56-14) at No. 3 and South Carolina (46-20) in fourth. Rounding out the Top 10 are Texas (46-17), Ole Miss (40-25), Vanderbilt (54-13), San Diego (43-18) and Wichita State (53-22).
Rank School Conference 2007 Record Final 2007 Ranking
1 Arizona State Pacific-10 49-15 4
2 North Carolina Atlantic Coast 57-16 2
3 Rice Conference USA 56-14 3
4 South Carolina Southeastern 46-20 8
5 Arizona Pacific-10 42-17 21
6 Texas Big 12 46-17 12
7 Mississippi Southeastern 40-25 17
8 Vanderbilt Southeastern 54-13 6
9 San Diego West Coast 43-18 23
10 Wichita State Missouri Valley 53-22 16
11 Oregon State Pacific-10 49-18 1
12 Miami (Fla.) Atlantic Coast 37-24 NR
13 Florida State Atlantic Coast 49-13 14
14 Cal State Fullerton Big West 38-25 10
15 Michigan Big Ten 42-19 20
16 Clemson Atlantic Coast 41-23 15
17 Missouri Big 12 42-18 25
18 Long Beach State Big West 39-20 27
19 UCLA Pacific-10 33-28 26
20 Texas A&M Big 12 48-19 11
21 Virginia Atlantic Coast 45-16 13
22 UC Irvine Big West 47-17 5
23 Louisville Big East 47-24 8
24 Mississippi State Southeastern 38-22 9
25 Kentucky Southeastern 34-19 -
26 Baylor Big 12 35-27 -
27 Oklahoma State Big 12 42-21 18
28 Louisiana-Lafayette Sun Belt 23-7 29
29 Fresno State Western Athletic 38-29 -
30 Coastal Carolina Big South 50-13 19
31 Georgia Tech Atlantic Coast 32-25 -
32 Pepperdine West Coast 35-22 -
33 Southern Mississippi Conference USA 39-23 -
34 Louisiana State Southeastern 29-26 -
35 Arkansas Southeastern 43-21 22
Others receiving votes (listed alphabetically): Alabama (31-26), Austin Peay (40-22), Bethune-Cookman (33-27), California (29-26), Charlotte (49-12), College of Charleston (39-19), Creighton (45-16), East Carolina (40-23), Georgia (23-33), Kent State (33-26), Louisiana Tech (35-24), Memphis (36-27), Minnesota (41-18), Nebraska (32-27), New Orleans (38-26), North Carolina State (38-23), Old Dominion (35-24), Oral Roberts (40-17), Penn State (31-26), Sam Houston State (40-24), South Florida (34-26), Southern California (27-29), Southern Illinois (34-22), St. John's (41-19), Stetson (42-21), TCU (48-14), Texas-San Antonio (36-22), Tulane (34-26), UC Riverside (38-21), UCF (27-32), VMI (34-21), Wake Forest (34-29), Western Carolina (42-20)