Jan. 24, 2008
Charlotte picked to win A-10 crown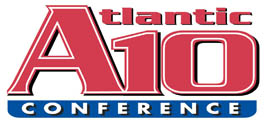 After winning a school-record 49 games and its first Atlantic 10 championship a season ago, Charlotte claimed the top spot in the A-10 preseason poll in voting by the league's head coaches, as released by the A-10 office.

The 49ers set an A-10 record with 23 conference victories in 2007. Charlotte returns senior infielder Shayne Moody, the Most Outstanding Player of the 2007 Championship, and senior outfielder Brad McElroy, a preseason All-American.

Richmond, under first-year head coach Mark McQueen, came in second in the preseason poll, followed by Xavier, Rhode Island and Fordham.

The top six teams will participate in the 2008 A-10 Championship May 21-24 at Campbell's Field in Camden, N.J.

Preseason poll (2007 Overall/A-10 record)
1. Charlotte (49-12/23-4)
2. Richmond (32-28/18-9)
3. Xavier (29-31/17-10)
4. Rhode Island (23-29/16-11)
5. Fordham (35-22/19-8)
6. George Washington (23-30-1/14-13)
7. Dayton (21-33/9-18)
8. St. Bonaventure (25-27/14-12)
9. Massachusetts (22-25/13-14
10. Saint Louis (16-37/12-14)
11. Temple (18-37/9-18)
12. Duquesne (22-29/10-17)
13. La Salle (17-32/8-19)
14. Saint Joseph's (10-39/6-21)