Feb. 21, 2008
Arms Race
By Abbey Mastracco
CollegeBaseballInsider.com
click here for WCC coaches' survey results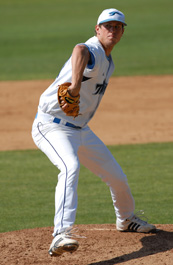 Brian Matusz (pictured right, photo by Brock Scott) slides onto a stool, attempting to lower his tall frame down to my level.
"I feel tall," Matusz said. At 6-5, San Diego's junior LHP is tall compared to most standing in the room at a recent college baseball media event in Long Beach, Calif.
He's dressed nice, in a button-down plaid shirt that matches his Torero blue eyes. He's very polite as other reporters approach him, shaking each of their hands and looking them square in the eye. He has an ease about him that doesn't scream, "I love the media." But he shows that he's done this a few times before.
Matusz rattles off his pitches – quite an impressive repertoire. Coming in two years ago, he was the highest draft pick to turn down a big league contract, opting instead to get a college education. Back then, he was listed as an inch shorter and 30 pounds lighter and threw three solid pitches, not the five he throws now.
Absent from the event is his teammate, Josh Romanski, another Toreros starting pitcher with an impressive résumé who somewhat has become Matusz's partner in crime over the past two years. Romanski, he explains, is in class that day.
"Oh, we're best buds," Matusz said. "Coming in, obviously we were the two highlighted freshmen two years ago. We played this summer on Team USA together. We're good friends."
Matusz is also quick to say how much fun his buddy had while traveling all over the South, New England, Brazil and the Netherlands with Team USA.
"He likes to dance, he was in the clubs," Matusz said.
Right off the bat, it's obvious these two have had some good times together. Now in their junior years, the pitchers have become the face of one of the top baseball programs on the West Coast. But can two stars exist on the same team without competition to see which one is the biggest?
"Instantly, there was a little bit of a rivalry," San Diego coach Rich Hill said. "They came in together out of high school as real highly touted guys that both turned out well over seven figures to go to college. They've become good friends, but at the same time there was almost like a sibling rivalry."
The careers of Matusz and Romanski have followed similar paths. Both were drafted high out of college, with Matusz going in the fifth round by the Angels and Romanski in the 15th by the Padres. The two became valuable starters during their freshmen seasons and were named freshmen All-Americans. Both blossomed in their weekend starting roles in their sophomore seasons, again were named All-Americans and then selected to pitch for Team USA in the summer of 2007.
Their names haven't become synonymous, but one usually isn't talked about without the other being brought up.
"I think we push each other on the field to be the best," Romanski said. "If he throws well [Friday], that gives me the motivation to pitch better [Saturday]. It's more like a friendly competition than anything."
Matusz agrees they push each other on the mound every weekend. But he denies a rivalry exists between the two.
"There's no competition, we can't have competition exist on a team," Matusz said. "We're both different people, and we both do our own thing. We do push each other to do better."
Similarities aside, Matusz and Romanski have managed to distinguish their games from one another.
Matusz is a power lefty who throws strikes. With five pitches in his repertoire, he utilizes his changeup, cut-fastball and curveball, throwing in the mid-90s. Known for his control, Matusz owned a 2.85 ERA in 2007, finished 10-3 over 123 innings and broke the Torero's single-season strikeout record with 163.
"He's a real eye-of-the-tiger guy," Hill said of Matusz's makeup. "And Josh is really the same way."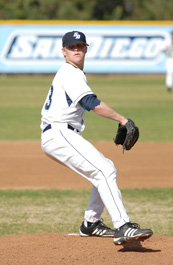 Romanski (pictured left, photo by Brock Scott) is a two-way player who doubles as a weekend starter on the mound and a starting left fielder. On the mound, Romanski gets outs with a changeup and a cutter and throws a fastball in the high 80s to low 90s range. Known for long outings, Romanski threw three complete games with two of them being shutouts in '07. He went 9-1 with a 3.05 ERA over 112 innings.
As a position player, Romanski owns a .315 career average. In 2007, Romanski made 55 starts in the outfield, hit .335 with 10 doubles, two triples, three homers and eight stolen bases.
"They're two of the best pitchers I've ever caught," said Logan Gelbrich, the Toreros' catcher and Matusz's roommate. "I think they make everyone around them better. They're two hard-working guys, and that's the kind of people I want to work with."
Gelbrich said their personalities fit in with the intense competitive nature that characterizes the Toreros this season.
"Our whole team is the most competitive group of people I've ever been around," Gelbrich said. "Our intrasquads are the most beautiful thing I've ever seen on a baseball diamond. We are bitter enemies in intrasquad. We get out there, we're kicking the dirt, just battling."
Matusz and Romanski have just as much praise for one another as Gelbrich has for them. Romanski touts Matusz as one of the best pitchers in the country, and Matusz praises Romanski's athleticism and ability to be a two-way player.
The pair has emerged as among the most recognizable faces in the West Coast Conference – a conference not known for having powerhouse sports schools. With the accomplishments of Gonzaga basketball often overshadowing the rest of the WCC's sports, Matusz, and Romanski, along with Pepperdine RHP Brett Hunter have become the new faces of the conference.
"I think sometimes we get overlooked in our conference," Pepperdine coach Steve Rodriguez said. "Everybody talks about how strong the [Pac-10] is and the Big West is, but when you're going to be dealing with pitchers who are going to be coming out of the West Coast Conference, I think it makes it that much stronger."
All of the attention means nothing, insist the Toreros' star pitchers. They play on a team, and feel they deserve no more recognition than the next person on the team. The scouts will always be there, they say. At the end of the summer, they don't care where they're shipped out because there's only one place they hope to be: Omaha.
"Coming into college, I had one main goal," Matusz said. "And that was to go to Omaha and win it.
"I expect nothing less than a national championship really. I feel like we have the leadership, [and] we really have the talent to do it this year."