Feb. 11, 2008
De la Osa's Return Fortifies Vandy
by Jimmy Jones
special to CollegeBaseballInsider.com
click here for SEC coaches' survey results
Every team strives to get better season after season.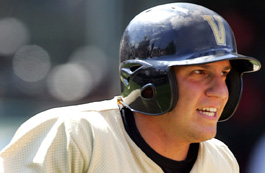 The Vanderbilt Commodores automatically got better for the 2008 season when senior Dominic de la Osa decided to forego signing a major league contract with the Detroit Tigers to return to Nashville to patrol right field for the defending Southeastern Conference champions.

The All-American's return to the Commodores' batting order cements one of the nation's best lineups as he, Pedro Alvarez and Ryan Flaherty team to form perhaps the best 2-3-4 hitters in college baseball.

"Dom was probably our best recruit this off-season since he didn't sign with a pro team," Vandy coach Tim Corbin said. "I really appreciate him coming back as he's one of the best players in the country. He's a five-tool kid and plays the game very hard and with a lot of passion.

"It means a lot to our program for Dom to come back. He brings a quiet confidence in his abilities and a burning desire to win to our clubhouse. He applies a lot of pressure on himself in his push for excellence. He is not only a very good ballplayer, he is a great teammate."

De la Osa batted .378 with a team high 20 home runs to go along with 62 RBI, a .727 slugging percentage and .452 on-base average (reaching base in 60 of 66 games), while providing stellar defense and displaying a strong throwing arm from the deepest regions of Hawkins Field.

He was one of only three players in the country to have 20 homers and 20 stolen bases.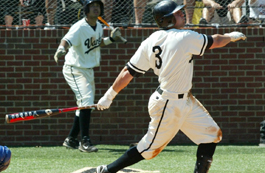 "It really was an easy decision for me," de la Osa said. "I felt like we had some unfinished business to take care of on the field and getting my degree is very important to me. Baseball is a lot of fun, and I want to have a long career even after college, but one has to prepare for the real world too. I look forward to the upcoming season and getting out there with my teammates."

Alvarez led the Commodores with a .386 batting average with 18 homers and 68 RBI en route to unanimous All-American honors a year ago. He led the USA Baseball National Team in hitting for the second straight summer and is the consensus No. 1 college prospect going into the 2008 season.

Flaherty finished last year with a .381 batting average to go with four homers, 23 doubles (tied for team high) and 57 RBI. He carries a school-record 35 game-hitting streak into the 2008 campaign and enjoyed an outstanding summer as the starting second baseman for Team USA.

Centerfielder David Macias and second baseman Alex Feinberg also hit better than .300, and Jonathan White will be counted on to bring his power stroke and speed to the attack in a regular role this season. White, a Milwaukee Brewers draft pick, will man left field and the DH spot.

Vandy also expects significant contributions from Parker Hanks, Shea Robin and Brad French.

The Commodores' offensive prowess is well documented, but it will be the pitching staff that will be the most closely scrutinized unit as the season opener looms closer.

Vanderbilt lost two key components of their rotation to the major league draft in David Price, the No. 1 overall pick by the Devil Rays, and closer Casey Weathers, whom the Colorado Rockies took with the eighth pick. Also gone is lefty Cody Crowell, who was versatile as a starter and reliever and ate up innings.

"We lost some very valuable guys that have moved on to bigger and better things," Corbin said. "We don't look at it as replacing pitchers, but we do feel that we can replace the innings that they pitched. We have some very good players that may be new names to some people, but not to us. We like our staff very much and we are excited for them to get their chance."

Sophomore left-hander Mike Minor will take over as the ace of the staff, while veteran Brett Jacobson will take over as the closer. Minor had an outstanding freshman campaign. He went 9-1 with a 3.09 ERA in 90.1 innings with 88 strikeouts and 19 walks – opposing hitters managed only a .226 batting average against him on his way to being named a freshman All-American and SEC freshman of the year.
Minor also played on Team USA this past summer, finishing with a team-best five wins and 1.64 ERA.

Junior right-hander Nick Christiani is penciled in as the probable Saturday starter. In 2007, he went 5-3 with a 4.11 ERA in 70 innings with 57 Ks and 36 walks. Caleb Cotham, a redshirt freshman, is expected to step up as the third starter, while Russell Brewer, Drew Hayes and Mark Lamm will log significant innings as well. Vandy also expects immediate contributions from true freshman right-hander Taylor Hill, one of the most prized recruits in the country.

Expectations are very high for the Commodores this season. They appear primed and ready to exceed them.
Correction: We erroneously had a photo of Matt Meingasner instead of Dominic de la Osa when we first published this story. We apologize for the error.