Feb. 10, 2008
ODU Arms vs. VCU Bats in Colonial Athletic Association
By Andrew Finley
CollegeBaseballInsider.com
click here for CAA coaches' survey results
One has two of the elite pitchers in the conference. The other has two of the better bats – and a recent supremacy to make other league teams envious.
The Colonial Athletic Association is deep and balanced, but much of the early buzz centers on Old Dominion University and Virginia Commonwealth University.
Old Dominion enters the 2008 season as the favorite. A year ago, the Monarchs won the regular-season crown – four teams tied atop the conference with 18-11 records – but fell in the conference tournament. ODU received nine of 11 votes in a preseason poll of the coaches.
VCU won the conference tournament in 2007 in dramatic fashion, beating Delaware in 13 innings in the championship. It was the Rams' fourth title in the past six years and the 12th straight season the Rams won at least 30 games.
The Monarchs boast an experienced squad, headlined by a pair of right-handed pitchers who would make alum Justin Verlander proud: Anthony Shawler and Dan Hudson. Shawler, a junior, received All-American recognition a year ago when he posted an 11-2 record and a 2.20 ERA with 130 strikeouts in 114.2 innings. In addition he hit .341 in CAA play and .305 overall as the club's regular first baseman in giving the Monarchs a dual threat reminiscent of Maika Symmonds and Ron Walker of the mid-to-late 1990s.<![if !supportLineBreakNewLine]>
<![endif]>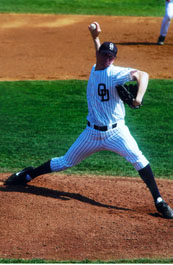 Hudson (pictured right) is the Friday night starter. The junior is a model of consistency; he has been in the rotation since arrived. He made 15 starts a year ago and pitched into the seventh in all but two of his starts. He was second in the CAA to Shawler in strikeouts and innings with 109 and 106.2 and finished 8-5 with a 3.46 ERA.
"I'm kind of like the guinea pig," Hudson said of a typical weekend series.
After starting the series opener, Hudson gives Shawler tips on how to attack hitters for the second game. Shawler credits Hudson's help with making him a better pitcher.
"My biggest strength is how competitive I am," Hudson said.
Echoed Shawler: "Competitive, that's really the bottom line."
ODU's staff has one of the best pitching minds in college baseball in head coach Jerry Meyers, a four-year starting pitcher at Iowa State who spent eight seasons as pitching coach at South Carolina before winning 74 games in his first two seasons in Norfolk.
"He taught me how to pitch," said Shawler, who limited hitters to a .224 average as a sophomore.
"He's such a pitching guru, he always knows what to fix," Hudson said.
Meyers has guided his pitching staff to a sub-4.00 ERA each his two seasons (both tops in the CAA). As a result of his success, Meyers has been selected as the pitching coach for the 2008 USA National team.
"I was a little bit shocked it happened so fast," said Meyers, who also coached the Monarchs' pitchers in 1996. "It's been invaluable from a pure baseball standpoint and reaping the benefits for our program."
Old Dominion plays a tough early schedule that includes three games against the Big East's Rutgers to open the season, followed by a trip to play North Carolina and Virginia.
"It's going to be a tough task," Meyers said. "With this condensed schedule, we're going to have to go deeper into the pitching staff."
The offense will be bolstered by the return of centerfielder and leadoff hitter Jimmy Miles. The senior missed all of last season after hurting his kneecap during the season opener. In 2006, he hit .348 and stole 39 bases. Also returning from injury will be first baseman Bryan Cipolla, who also missed all of last season. Cipolla is a three-year starter who hit .318 in 2006 and has 142 RBI in his college career. They will join senior designated hitter David Burns, who hit .309 last season with 61 RBI, tied for most on the team.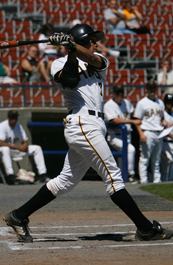 VCU might not have the elite arms of its rival two hours to the east, but it should have a strong offense, led by two of the league's best hitters in Jared Bolden (pictured left) and Chris Jackson.
Bolden, a junior first baseman who will see some time in the outfield in 2008, hit .383 last year with a .573 slugging percentage and 17 stolen bases. This year, he hopes to continue doing what he has been doing and setting an example for the younger players who will have to contribute for the Rams to achieve their goal: "To get back to the Regionals and another CAA championship if possible."
Jackson, a junior third baseman, hit .341 with 25 extra-base hits and 57 RBI while starting all 60 games. Jackson, a Richmonder who stayed in town to play for the Rams, said he hopes "to go out and have the same kind of season as last year" and be a leader on a relatively young team. According to Jackson, the Rams have a tradition of getting to the field early and taking extra batting practice – he plans on leading his younger teammates by doing those things to set a good example.
Jackson said one young player he is expecting to emerge as a team leader is Richard Gonzalez, who started 57 games as a freshman as the team's second baseman and hit .271.
One challenger to the Monarchs and Rams is Delaware, which finished in that four-team logjam atop the CAA standings in 2007.
The Blue Hens are led by perhaps the most dangerous hitter in the conference, Alex Buchholz. Buchholz has received first team All-American recognition from Louisville Slugger after hitting .387 with 27 doubles and 11 home runs, good for a .689 slugging percentage. That followed a freshman season in which he hit .378 with 18 home runs.