Feb. 20, 2008
Winning Ways
By Sean Ryan
CollegeBaseballInsider.com Co-Founder
click here for Big West coaches' survey results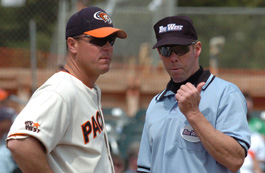 He's won a pair of College World Series titles. He's won a pair of World Series rings. He's won a Gold Medal. And he's won the heart of another Gold Medal winner.
To say that Pacific head coach Ed Sprague is used to winning might be the understatement of the year.
Sprague was a part of back-to-back titles at Stanford and as a member of the Toronto Blue Jays. In between, a Gold Medal at the 1988 Summer Olympics. His wife, Kristen Babb Sprague, took home the Gold in synchronized swimming in 1992.
He's brought his winning ways to Pacific, where he led the Tigers to their first back-to-back 30-win seasons in school history in 2005-06. After taking a step back in 2007, Sprague, entering his fifth season, is looking for a rebound in 2008. He took some time to chat with CollegeBaseballInsider.com about the rough-and-tumble Big West, Pacific's on-campus home and all that hardware.
Four regional teams, two College World Series teams. How good was the Big West last year? The best top to bottom that you've seen in your five years?

I think the Big West has been very good the last few years. I think we should have gotten at least three or four teams in every year since I have been here. The difference last year was Riverside and Irvine being atop the conference as opposed to more household names like Long Beach and Fullerton. I also think if you would have put Cal Poly in the mix, they would have surprised a lot of people as well.

Was it surprising at all for the conference to put two teams in Omaha?
I don't think it was surprising to see two Big West teams in the CWS if you watch the caliber of play week in and week out. We all know anything can happen when you get to the postseason. Fullerton and Irvine played their best when it counted and showed the grit of playing a tough conference schedule.
The Big West and other Western conferences have clamored about being slighted come tourney time the past few years. What did the success of Irvine and Fullerton – in addition to Oregon State and UCLA – do for the Left Coast?

I think the West Coast has been slighted for a while when it comes to regional bids because of the lack of attendance as compared to the South. When there are teams who don't even get into their own conference tourney qualify for the NCAA tourney you have a definite bias. You would like to think the success of Oregon State, UCLA and Irvine would help us, but I don't see that changing anytime soon especially with the amount of dollars being spent on college baseball in the south. Don't get me wrong, I am happy for those teams that have the big budgets and have huge fan bases with monster attendance. Those are great things for college baseball. It just doesn't have a whole lot to do with who the best teams are come tournament time. The West is in a much more competitive market when it comes to drawing fans. There is just a lot more to do out here. Even the best teams don't draw as compared to the south. We need to do a better job of marketing the quality of our baseball on the West Coast not only to our fan base, but also to the media markets that help shape the top teams.
It doesn't appear to get any easier in the Big West this year. Can you handicap the race or pick a couple of favorites?

Every year, the Big West seems to get tougher. I think Long Beach and Fullerton will always be in the mix. Riverside and Irvine have proven they can get it done as well. Each year, it seems the quality goes one or two teams deeper. I know anybody can beat anybody on any given weekend, and I think all the teams in the league have the ability to compete for the title if they get on a roll. The biggest difference comes down to your depth and having the ability to overcome injuries or setbacks to your key guys. Every team is going to have to deal with a little adversity, and it becomes a matter if those guys coming off the bench can get the job done.
In addition to the tough conference, you have teams like Houston, Minnesota, Stanford, Cal and Washington – before finishing with three games at Oregon State – on the nonconference docket. Your players must either think you're crazy or are pumped. Or maybe both?

We are committed to playing the best nonconference schedule we can. For one, that is what our players want and two, I think it is the best way to get ready for our conference schedule. We may take some lumps, but I think to learn to play championship baseball you have to play the best.

What has Oregon State's success the past few years meant to a program like yours?

Oregon State's success has been great to see. Anytime you have a new face on top, it is great for college baseball. Pat Casey has done a great job up there and has proven if you are committed and get players that are committed and buy into what you are trying to do, it doesn't matter if you have a huge history or tradition. I think they have shown getting to the promise land is very possible.

After the first back-to-back 30-win seasons in school history, the Tigers struggled last year. What went wrong, and what did the team take away from it?
We were optimistic coming into last year that we could continue to build on the past two years. We had some problems right before the season started and had to dismiss five players. This affected our starting lineup, rotation and our depth. We were a very good team for six innings but we just couldn't close the game out. Some young guys were thrown into the fire and came out with a lot of experience going into this year. Overall, last year was a great learning experience for me and my coaches and especially for our players. In the long run it will probably be looked at as a positive turning point for our program. <![if !supportLineBreakNewLine]>
<![endif]>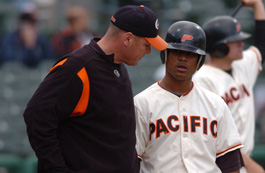 What made you want to coach? How did Pacific come about?

I always knew I would coach at some level. I enjoyed my college baseball experience, and when Pacific approached me about the job in 2003, it seemed like a natural fit. I have lived in Stockton since 1980. I went to high school here and have owned a home here since 1992. It has been nice to have campus only 2 miles from home.

What's changed in the college game since your playing days?

I think the biggest change has been the time constraints. When I was at Stanford, we played a full fall schedule against JC programs as well as the four-year schools in the area. Also, we were on the field from 1 until dark. The development process was much faster back then because of all the time we spent playing. Also, the short game is a lot more prevalent. I don't remember us hardly ever using the short game in my playing days.

What have you enjoyed most as the head of Pacific baseball?

The thing I have enjoyed most has probably been seeing the growth of the program over the years. Building Klein Family Field from the ground up and being able to call recruits and have them know about your program. In the first few years we felt like salesmen making cold calls.

Do you ever take a little BP with the aluminum?
I hardly ever take BP with the aluminum unless we are doing a live drill or I am trying to get my point across to a hitter. I still prefer the wood and hope someday we look at making the change back. I know the games would be much quicker.

Klein Family Field opened two years ago and is the first on-campus facility since 1951. How has that helped your program?

The addition of Klein Family Field has probably been the biggest boost to our recruiting. It is a great place to go to work every day. I would put our playing surface against anyone's in the country, and you can ask anyone who has played on it. Clay Wood, head groundskeeper for the Oakland A's, liked our infield dirt so much he changed his dirt to our infield mix.

On the field, not many players can boast of winning back-to-back national titles in college (Stanford) and back-to-back World Series titles (Toronto). Reflect on your college and pro days.

I was very fortunate to play for some great coaches and play with some great players. 1987 to 1993 was a great run for me personally. To play for two College World Series winners, an Olympic gold medal team and two Major League World Series winners was quite a thrill. I still hold our first College World Series championship against Oklahoma State as my biggest thrill on the baseball field.

Do you know of any other World Series ring owner married to an Olympic gold medalist?

I know Todd Zeile is married to Olympic gold medalist Julie Ann McNamara, and I know Todd played in the 2000 World Series for the Mets. That is all I know of, but there could be others.

How did you meet your wife, Kristen Babb Sprague? First impressions of her. What about her passion for synchronized swimming?

I first met my wife at the Pan American Games in 1987. I guess my first impression was "What the heck is she doing?" I didn't know anything about synchronized swimming but figured out in a hurry that she was a much better athlete than I was.

Are you guys competitive with each other? Who wins in a game of pool or Scrabble or whatever you guys play?

There is not much competition at our house because I win everything. Just kidding, we are both very competitive but I think it has been toned down over the years because of the kids.

How's life with a toddler and teenagers?
Life with the kids is great. It is very challenging for my wife during the baseball season but she has had a lot of practice at hauling kids to their games as well as ours. Our 2-year-old has made it more interesting, but the other kids have done a great job in helping her out.