Feb. 13, 2008
VMI on the Rise
By Patrick Hyde
CollegeBaseballInsider.com
click here for Big South coaches' survey results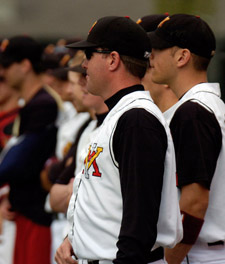 For years, Virginia Military Institute floundered in mediocrity.
Starting in 2001 – under former coach Tom Slater, now the head man at Auburn – VMI has consistently improved.
The Keydets posted their first winning record in league play in 14 years and set a school record for wins in 2003. Slater left for an assistant's position at Florida after the '03 season and handed the reigns over to Marlin Ikenberry (pictured right), a former VMI catcher.
All Ikenberry has done is led VMI to unprecedented success, setting school records in wins the past two seasons and posting the school's first back-to-back winning seasons in more than 40 years.
Winning records and school records are great, but Ikenberry and his team now have bigger goals in mind.
"The NCAA [tournament] is our goal," Ikenberry said. "I'm ready to hang some banners around this place."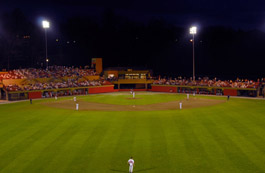 The place Ikenberry is referring to is the Keydets' 2-year-old, 1,400-seat, Gray-Minor Stadium, complete with a new $500,000 scoreboard. Coupled with the team's recent success, the new stadium is a coup for the fledgling program.
"We finally have the facilities to compete with the big guys," Ikenberry said.
Offensively, the Keydets are going to need to find a way to produce more runs after losing its top two hitters, Robert Crumpler and Eddie Van Es. Defensively, the club returns seven starters.
The team returns its top four arms from last season – senior Trey Barham, juniors Michael Bowman and Chris Henderson and sophomore Chris Duty. But VMI will have to replace closer Kevin Crum (14 saves), who unexpectedly resigned from school in January.
"[VMI's] rise has for the most part been on the pitcher's mound," Coastal Carolina head coach Gary Gilmore said. "Their pitching has been about as good as anyone in the league."
The strength of the Keydets' staff comes from a mixture of experience, dexterity and hard work.
"Our pitching coach [Ryan Mau] has done a great job," Ikenberry said. "Each guy has stayed healthy and gotten better each year even though they were thrown to the wolves as freshmen."
Bowman, the staff's ace who set single-season school records for strikeouts with 110 and strikeouts with 99, said that he would like to top his season from last year, but that his ultimate goal was for the team to win a conference championship.
"It's flattering to get the attention," said Bowman, who went 6-3 with a 2.73 ERA. "But I am more focused on the season coming up then the accolades."
The main obstacle between the Keydets and their first conference championship is reigning Big South Conference champion Coastal Carolina. The Chanticleers are coming off a 50-win season and NCAA tournament appearances in two of the past three years.
This year, Coastal is playing a tough schedule in hopes of again hoping an NCAA regional.
"We try to play a balanced schedule," Gilmore said. "We are never going to make it to Omaha if we don't play a good schedule."
Coastal will be led offensively and defensively by returning Big South player of the year, junior outfielder David Sappelt (.359/10/50). The pitching staff will be led by returning Big South pitcher of the year, junior Bobby Gagg (12-2, 2.57). Senior outfielder Tommy Baldridge (.383/15/38) joins Sappelt and Gagg as Louisville Slugger pre-season All-Americans.
Liberty returns seven starters, including four of its top five hitters, from a team that finished second in the Big South tournament last season. Liberty enters the season with new coach Jim Toman, who arrived in Lynchburg, Va., after 11 years as an assistant at South Carolina.
Winthrop and head coach Joe Hudak return three of their top hitters in sophomore catcher John Murrian, junior first baseman Eddie Tisdale and senior outfielder/catcher Billy Froehlich. The Eagles will have to fill the holes in their rotation left by the departure of Alex Wilson and Jason Franzblau. They will turn to Ryan Schwartz and Josh McDonald to fill the void.
Sal Bando Jr. and High Point return their four best hitters in Jeff Cowan, Robby Kuzdale, Alfie Wheeler and Chris Norwood, as well as pitcher Bubba O'Donnell. The team needs to shore up its rotation if it is going to compete for a place in the upper echelon of the conference.
UNC Asheville returns two of its top starters in seniors Alan DeRatt and Graham Baughn. Offensively, head coach Willie Stewart will turn to seniors Kevin Mattison and Elliott Arrington to lead the attack.
Charleston Southern lost most of its top offensive players after last season and will look to a mostly young and inexperienced team. Top returnees are infielders Mark Perry and Will Rodriguez. The Buccaneers' pitching staff is in much better shape returning Andrew White, Payton Tweddale, Brandon Roberts and Cody Higgins.
Radford enters the season with new coach Joe Raccuia, an alum who takes over the program after several years as an assistant at Alabama and a successful run as head coach at Marist. The team returns 18 position players, including All-Big South first-teamer Alex Gregory. Pitcher Eric Evans leads the Highlanders' 10 returning pitchers.