Feb. 8, 2008
Cardinals, Big East Flying High
By Andrew Finley
CollegeBaseballInsider.com
click here for Big East coaches' survey results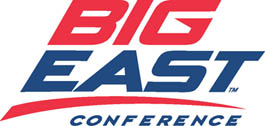 Last season was a banner year for the Big East as Louisville advanced to the College World Series, and the conference sent three teams to the NCAA tournament.
The conference will look to replicate and perhaps even improve on last year's success. USF coach Lelo Prado predicted that "this year there will be four or five teams going to the [NCAA] tourney."
The Cardinals reached Omaha despite not winning the Big East regular season. Louisville finished a game behind St. John's and Rutgers, which was eliminated by eventual national champion Oregon State in Regionals.
"We knew we could make it that far," sophomore third baseman Chris Dominguez, a Miami native who relished downing perennial power Miami in last year's Columbia Regional, where he was the Most Outstanding Player after going 8 for 19 with four homers and 11 RBI.
Dominguez's goal is to cut down on his 84 strikeouts in 2007 while continuing to drive in runs, and improve on his 2007 totals – a .262 average with 15 homers and 19 doubles with 55 RBI.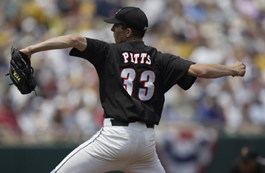 In addition to Dominguez, the Cardinals return senior right-handed pitcher Zack Pitts (pictured right), who was the Big East pitcher of the year and was drafted in the 30th round by the Washington Nationals.
"Their character, they are all-Americans both on and off the field," Louisville coach Dan McDonnell said of his two stars' best attributes. "They work extremely hard and are very consistent in their day-to-day routine, setting the tone for the team to fall in behind."
Pitts and Dominguez echoed their coach's concern with setting a good example through hard work.
"I think my best attribute is a positive attitude, I don't think there's too many people who could say I don't work hard," said Pitts, who went 10-3 with a 2.52 ERA a year ago.
Adding to a powerful 1-2 punch on the mound for the Cardinals is sophomore lefty Justin Marks, who went 9-2 a season ago with a 2.67 ERA.
Louisville also will benefit from the veteran leadership of senior catcher Derrick Alfonso, who is a team captain along with Pitts.
"He is a proven, quality Division I catcher," McDonnell said. "He is one of the better, if not the best, defensive catchers in the country."
The third captain is fifth-year senior B.J. Rosenberg, a right-handed pitcher who missed last season with an injury. Pitts and Dominguez agreed that he was a good candidate to have a surprise year after throwing very well in the fall.
While the Cardinals had the experience of a lifetime a year ago, getting out alive in the Big East won't be easy. In fact, St. John's received the nod in the preseason coaches' poll with seven votes to five for Louisville, attesting to the newfound strength of the conference.
"We wouldn't have been able to get to Omaha without the preparation of the Big East," McDonnell said.
The Red Storm pitching staff will be led by junior left-hander Scott Barnes, who was 7-2 with a 2.93 ERA during the 2007 campaign. The offense will be led by senior Gil Zayas and outfielder Brian Kemp. Zayas earned First-Team All-Big East honors in 2007 when he led the team with a .353 average and 21 doubles. Kemp hit .384 a year ago and was selected to the preseason All-Big East team by the coaches.
The Big East does have one southern outpost – the University of South Florida in Tampa, Fla. The coaches picked USF to finish third. The Bulls are young and talented – they return only 11 players from a team that finished fifth in the conference with a 13-14 record a year ago.
"We have a lot more arms this year," said Prado, the former Louisville skipper who will be beginning his second year as the head man in Tampa. Last year was "better than what I thought we would do," but this year, he expects his team to make the NCAA tournament field. "That should be the goal every year at USF; we should be a top 25 team."
The pitching staff welcomes back ace Daniel Thomas. Last year the junior red-shirted after an early-season injury, but Prado said he was clearly the staff ace before the injury. Closing games will be sophomore Shawn Sanford, who saved 11 games last season. Prado will be looking for veteran second baseman Dexter Butler and University of Florida transfer Ryan Lockwood, an athletic center fielder, to anchor the defense. Butler hit .324 a year ago and was selected to the All-Big East preseason team.
"It all comes down to pitching, and if we make plays on defense," Prado said on the Bulls' chances of unseating one of the two top teams. "If we do those things, we'll compete with them."
Other teams to watch in the conference include Rutgers, which finished fourth in the preseason poll and Connecticut, which nearly earned the conference a fourth NCAA tournament bid by upsetting Rutgers in last season's conference tournament.