Feb. 12, 2008
Third time a charm?
By Phil Stanton
CollegeBaseballInsider.com Co-Founder
click here for ACC coaches' survey results

Mike Fox enters his 10th season at the helm of the North Carolina baseball program. He has posted a record of 398-176-1, and his Tar Heels recorded a mark of 57-16 and again advanced to the College World Series, finishing as runner-up to Oregon State for the second consecutive season.
The Tar Heels return 21 lettermen and seven starters, including super sophomore Dustin Ackley and junior catcher Tim Federowicz. Ackley, 2007 freshman of the year, led the nation with 119 hits while batting .402 with 10 homers and 74 RBI. Federowicz hit .333 with 65 RBI. He also posted a 2-2 record with three saves coming out of the bullpen. Junior right-hander Adam Warren and senior reliever Rob Wooten anchor the UNC pitching staff. Warren was 12-0 in 2007 with a 2.17 ERA. Wooten led the nation with 47 appearances and posted a 2.35 ERA.
Fox spent some time with CBI's Phil Stanton to preview the 2008 campaign.
CBI: Was it more difficult to get to the Championship Series of the College World Series the second year than the first time?
Fox: I don't know that I could say that. I think it's always difficult to get to the College World Series. I think every year is different. It's one of the toughest things to do. I don't know that '06 had any impact on us in '07 getting there. I know we had some difficult games, and we had some experience. We tried to put 2006 behind us and just play last year. Fortunately it worked out for us. That's a tough question. I think it's hard every year to get there.
CBI: Will you do the same thing this year, try to put behind the past two years when you look at this season?
I think you have to. You just have to focus on this year, not dwell too much on what's happened in the past. It's almost like if you haven't had a good year the year before, you have to put it behind you. If you've had a bad year or good year, you just have to focus on this season. I think the experience obviously helps you when your team has done well and you've got some experienced players back. We try not to dwell too much on things that may or may not help us during this season.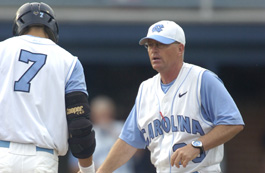 CBI: Can you talk about the experience you do have coming back this year?
Fox: Position-player wise, we've got seven out of nine players that were the top nine hitters on our team last year in terms of at-bats and games played, and in that regard I like the fact that we have some juniors and seniors that have played the last couple years and have played in some big games and big league games. That certainly is going to help us. They seem to be extremely driven and motivated and obviously I like that part of it as a coach. We're not quite as experienced on the mound. We've got a lot of freshmen and sophomores on our pitching staff, one junior and three seniors of which one has been a major contributor over his career. That's going to be the area where we're going to have to grow up pretty quickly and throw some young guys out there in the fire and see how they respond.
CBI: What will it be like being nomads this year playing your home games in Cary, N.C.?
Fox: We're getting that experience now. We traveled out there a little bit in the fall, but we've been going out there every day since we started team practices. It's going to be fine. The people out there, both with USA Baseball and Cary Parks & Rec, they're falling over backwards to help us. I told the guys the other day out there that it's so quiet out there and the field is just immaculate. We just have to show up and practice and leave. It's a great place out there. We're just going to have to deal with it. If we have to have a season of not playing at Boshamer, to play out there at Cary, it couldn't have fallen into our lap any better than it did.
CBI: Are there significant differences in the dimensions of Cary and Boshamer?
It's a big park at Cary. It's really big in the gaps. We didn't hit a home run there in the fall, I don't know if it was the time of year or what, but we thought that this park is really playing big. Now that we've been on it three or four days in practice, like yesterday the ball was flying out of there pretty good, so it's kind of a different wind shift. They'll be some home runs hit there but also some extra base hits there because it's so big in the alleys there. Your outfielders have to be able to run a little bit and be pretty good out there. If the ball gets by an outfielder and goes to the gap and the guy can run at all, it's going to be a triple.
CBI: What do you see for the ACC this season?
Fox: I think our league once again is going to be really, really good. An indication of that is the predictions that came out, and I think six teams in our league got votes for winning the league. I think that says a lot about how strong our teams are. I think there are a lot of really good players back from last year. It's a great league. It's fun to compete in. I think the ACC will have another really outstanding year.